About Timothy Colbourn Cumming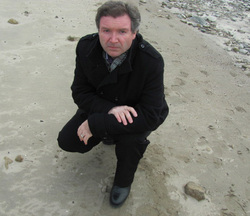 Timothy Colbourn Cumming is a professional communicator who lives in Goderich, Ontario, Canada. Tim worked in the journalism field as a community newspaper editor for more than a decade. He has taught middle school and secondary school in Ontario and he also taught journalism at the Universidad Intercontinental and Colegios Peterson in Mexico City. His articles have appeared in
The Globe and Mail, The Record, The News
(Mexico City),
The Mexico City Times
,
The Beacon Herald
, and
The London Free Pres
s.
Tim wrote the play
The Tiger's Lion
, which was successfully staged by the Goderich Little Theatre at the historic Livery. The play tells the story of John Galt, the Scottish novelist who was instrumental in the creation of the Canada Company land development enterprise.
Tim is working on the first draft of a book called
Upturn
. Tim has completed more than 400,000 words of the first draft. The book may be published as early as 2018. Visit
climatechangenovel.com
for excerpts.
To preview book one (
Exit Fortress
) or to order a working copy visit this link:
Book One of Two
To make sure you know when the book is ready to order please subscribe now to our
Upturn newsletter
.
Colbourn Publishers hosted a public reading of the novel on December 17, 2012 at the Candlelight Restaurant in Goderich. About 40 people attended the reading and showed great enthusiasm for the potential of this book in development. The crowd gave a standing ovation to the musicians and readers who made the story come alive.
Contact
Colbourn Publishers
for more information about this important new novel in development.
For excerpts from the novel, scroll down on this page or v
isit facebook.com or like
the
Colbourn Publishers
or
climatechangenovel.com
.
---
Excerpts from Upturn

Corporate rising star Daniel Wentworth had more than silk clothing – he had a silk tongue. He coated nasty pills in honey so Congress vote junkies would take their medicine without complaint.
Selling fear to politicians was easier for the lobbyist than donning platinum cufflinks in the morning. Politicians believed the theology of convenience. They converted readily to Daniel Wentworths's brand of capital evangelism. "The climate doom-saying is nothing but the nostalgic ravings of aging baby-boomers who long for a past they never actually lived," Danny told them over malt whisky and illegal Cuban cigars. "They regret that their Volkswagen van was in the shop during Woodstock. They're sorry they never hugged a tree, or chained themselves to one, when they had the chance before the grey hair started sprouting on their heads … and other parts of their anatomy."
"Do you know?" asked Danny, rhetorically, over a Scotch at Bullfeather's, "that the scientists were also Chicken Littles, crying that the sky was falling, back in 1971 (he was not sure of the date but he cited it with confidence) … only, then, they weren't telling Nixon that the world was getting too hot. No, they were talking about global chilling. Global chilling! Now, those same Nervous Nelly fraidy-cats are saying the world's getting too warm!"

$$$$$

Andrew Sullivan was neither the richest child at school, nor the poorest.
He was neither the most handsome child at school, nor the plainest.
He was neither the most popular child, nor the most despised.
He was neither the brightest student, nor the dullest.
You might have thought Andrew was average. You would be wrong.
Every super hero has at least one special power. Andrew's super power? He knew people. Knowing what makes people tick may not
sound like much of a super power. Lots of civilians know people. They can recognize if someone is happy, or sad, or paranoid, or petty. Used-car salesmen know when someone is guilty of being too nice and gullible enough to believe that, "I'm really giving you a
deal here" or "This car has only been driven by a little old lady … on Sundays … in the summertime … on the highway."
Certainly it is not unusual that a human being has an idea what other human beings are feeling. It is even rumoured there are husbands who understand that when their wife says "That's all right," it is not, actually, all right.
Lots of people with modest intellectual quotients have very high emotional quotients. But Andrew understood people in a very special way. Even as a child, he was able to determine who was weak, who was strong, who was greedy, who was scared, who had nightmares, and who had dreams.
As a student, Sully knew when a frightened first-year teacher needed an encouraging word. He knew when a skinny classmate needed half a sandwich from his lunch box. He knew when bullies were bullies because they were insecure and scared or if they were bullies because they just plain enjoyed the pain of others. (He knew if a bully lacked self-esteem, or a bully had too much self-esteem).
Sully was able to find ways to make people's dreams come true – and profit from it. He noticed if a classmate had a sweet tooth and he might trade a chocolate bar for a rare video game. He introduced a quiet, introspective child with a knack for poetry to a cool kid with a guitar. The result was a song performed in the school's Battle of the Bands. It was not a great song, but it was a better song than either student could have produced on one's own.
Sully learned his people skills from his father, Moses, who was a ticket scalper. Selling tickets illegally was no small feat in the United State of Aramea, the underground country where money was not exchanged using paper or coins. The corporate state did not like people who tried to limit the Mother Corporation's profit, so the State controlled the flow of money with an iron fist and a prying eye.
Why would someone as smart as Andrew become a criminal? Maybe, despite his cleverness, and his third eye for the things that motivated people, he doubted he could ever succeed in the real world. Andrew could not hold himself up on the rope at school, or compete with the stronger boys on the flexed arm hang – that enduring measuring stick to separate the boys from the men.
Running his own illicit enterprise meant that Andrew had control, and he never had to feel the inadequacies of physical measures or social measures that were controlled by the warlords of society. The young boy did not fit in with the regular people and neither did his father. What Moses Sullivan did for a career was obviously wrong but Andrew's father was his own man.
Sully wasn't sure if his father loved him. But his father did get a kick out of him. That has to be love on some kind of level, doesn't it?
"Is that your son, the roly-poly kid," a friend of Moses asked.
"That's what his mother tells me."
"How come he's so dressed up? Is he headed to church?"
Andrew quietly absorbed the barbs from his father's shady acquaintances. He loved watching his father making a deal. Sully's friends could be throwing balls against the walls or playing 3-D digital games but the chubby youngster preferred the voyeuristic thrill of watching the exchange of identities, elaborate hidden exchanges of electronic credits, and bartering, and trade in pseudo currencies. He was mesmerized by his father's ingenious ways to cheat the state out of their just rewards.
His father got caught once. The older Sullivan disappeared for three years but when he returned he didn't miss a beat and was back into trading and bartering and conning.
"Don't tell anyone what I do, you hear?" Andrew's father told his odd son, holding the flesh of Andrew's fat face firmly in his powerful hand. "Don't tell anyone. You tell them I'm a small businessman selling wholesale goods at a profit. You got that?"
Andrew stared at his father silently – physically scared of him. Then, the boy's father smiled and offered a warm hug. "Listen, Andrew, you're a good boy. You're going to be one of the good ones. You're going to grow up to be better than your father. You don't have to break any rules. You're a smart kid. You can be rich one day without breaking the rules. Don't let anybody tell you any different. You hear me?"

$$$$$

"Renée!" Gene cried down the street but the woman he affectionately called Worm had dissolved into the crowd. Genesis began to run, cutting through the swarm of citizen drones. A pair of guards eyed him suspiciously and began to march briskly, keeping this exiting bank patron in sight.
"Renaissance!" he cried, as he spotted his former lover's black hair and he closed the gap.
She stopped. She slowly turned. The guards slowed down and began to lose interest. Genesis bent over, holding onto his thighs and catching his breath. The bright-eyed girl, turned sad-eyed woman, saw the boy she loved – the man she loved – after two years spent apart.
"Genesis," she said. A warm and lasting embrace replaced the awkward pause. When they finally let go of each other, Renaissance held the hands of the man she once (and maybe still) loved and studied the dirt that was ground into his pores. "How's work?" she asked. (As soon as she asked the question, she regretted it).
Genesis just smiled, sadly. "I heard you were working on databases," he said, trying to fill the void. "That's great. That's what you always wanted." What she wanted was much more than a dull job entering figures – but Renée let the comment go.
People ask each other about their jobs, don't they? It's what people do. The two former lovers awkwardly danced the small-talk waltz and fully expected the conversation to end with some cliché' like the almost-genuine "We'll have to get together for tea" or the patent lie "We must keep in touch." Renaissance's attempt at closure was at least honest. "Genesis – I have to go. I'm meeting someone for supper. We've been seeing each other for a little while. It's been really wonderful to see you."
"Sure – same here."
A tight hug was followed by an abandoned embrace. Two souls, once intertwined, now floated away in opposite directions.
Perhaps they would not hug again until the next chance encounter and all the forced niceties it would bring: "So, you're married," at first, and later, the inevitable "So, you're pregnant," and still later, "So, you've had three kids," and, finally, "So, you're battling cancer – I'm so sorry."
Genesis took hesitant strides, fully aware that each step was one step away from the woman he secretly worshipped and one step closer to the dreary end that was his birthright as a manual labourer in Aramea Village. Renaissance took her melancholy steps the other way, towards a life that was more comfortable and probably longer than Gene's but still a life weighed down under the canopy of vanquished dreams and deserted loves.
They were separating forever. It would not take much to avoid this tragic rupture. It would only take one or the other person to stop in their tracks, turn and say, "I love you, I need you." But, no one ever does that, do they? No one ever risks an awkward moment in order to share one's true feelings. No one ever really stands up at the front of the church or mosque or temple or synagogue to say, "I can't marry you, Jacob – I really love Abram." No, they bury their feelings in a tomb deep within and, cowardly, say what people always say because it seems easier to live a lie forever than risk a moment of embarrassment.
But, as Genesis walked away, a radical idea took root inside his brain. What if a person actually said what they felt? Men had gone to war to lay down their lives in society's name – could a man not just as easily make the brave act of saying, "I love you – I need you"? What if two people, in love, really could pursue a dream together? What if there was a life for Renaissance and Genesis together? And, finally, most radically, what if there was a life for them somewhere else? In another place. On the surface of the Earth.

$$$$$

Renaissance ambled down the pedestrian walkway but she could hear the sound of speeding cars ejected down uncertain roadways nearby. The vehicles flew by in parallel tunnels. The electric cars and electric subway trains shot past like champagne corks in sudden flight.
(The act of opening a Champagne bottle on the wedding night seems to mimic the adventures later in the evening – but I digress). The tunnel streets were lit by faint blue-hued lights. Renée craved light and there was never enough of it for her.
Optometrists were among the wealthiest Arameans as so many citizens suffered from eye problems caused by too little light or too much. It must be hard for a surface person to imagine a world without sunlight. Then again, there are cruise ships where, during the sunniest of days, dozens of people can be found inside the vessel, sipping coffee in cafés in pseudo Milanese downtowns lit only by artificial light.
The citizens of the inside-world had different views of light. Imagine a couple where the husband grew up with migraines that left him sitting in a corner, left temple pulsing, the door closed, the lights off, a cold compress covering his eyes, dreading the ray of light creeping underneath the door, waiting for the relief that only comes when one is sick to their stomach.
The wife, on the other hand, grew up sleep-walking, with a need for light, and turning on night-lights in every room of the house. The people of Aramea were like that – some craving light, some dreading it.
The early Arameans who could remember the sun would spend hours in stimulation chambers that replicated the experience of live in a sun world. They became addicted to the technological tools that re-sampled their above-world memories.
Those who wanted a sunshine experience, or above-world simulation, could don a coat that would plug into their existing internal or external ports (depending on their choice) and they would have warmth, stimulation of their optic nerves, and they would believe they were on a beach in the sun.
The upper class and upper middle-class ratepayers of Aramea purchased and fed giant artificial lights for the purposes of conspicuous consumption (or to treat seasonal affective disorder). They lived on wide tunnel streets with enough rays of light to give you a headache, just because they could. The poor or working-class Arameans lived in narrower streets where light was at a premium. The poorest barrios had almost no light at all. Light and power was a luxury that many people in the inside world could not afford.
Renée wanted to kick the cameras that surrounded her. There were cameras everywhere. Some she could see and others were too small to see. She wondered what it must be like living in the Above World, where people could run over hills and run through forests and no one would spy on them. She imagined herself running through the forest naked, with no one watching except squirrels, and raccoons, and animals she had never seen in Aramea – such as beavers or any number of bird species.
Renaissance was dragging her feet along Freedom Avenue when she noticed three words. The letters were hard to make out on the dirty tunnel walls, and under the uneven fluorescent lights, but she could tell the words were there. She took her gloved hand, rubbed away the oily soot, and revealed the ancient message hidden there: "Air is gold." Someone had to remind the first Aramea Village residents that air was the new gold. Renaissance, on the other hand, had never known anything except life in a tunnel with air pumped from origins unknown. The underground urchin was the seventh generation to live in this subterranean city-state. She ignored the irony of the words and proceeded to walk the tunnel-street.
"Air is gold." The companies had comprehended this truth early. The Judases in tie-pins would not let a simple Climate Holocaust destroy their assets. No. They quickly adapted. They forged new underground cities to preserve their economic domination in a post-surface world.

$$$$$

"Gentlemen and ladies, thank you for the opportunity to speak with you. Today I speak to you not only about challenges but also about opportunities." It was time, Daniel Wentworth said, to accept the expensive reality that business could not solve the temperature and precipitation holocaust now taking place on the surface of the Earth. So, what was there to do? Moving humanity to the cosmos was not an option. Myopic governments had starved space programs in favour of costly war experiments in distant countries. Besides, government attracted people who couldn't add. Men in government (and they were men) believed neoconservative fairy tales over the unvarnished truth of the calculator. Raising taxes was wrong (God or Adam Smith had decreed that somewhere) but taxing great-great grandchildren through debt was fine. Nothing un-conservative about that.
Big Government was the enemy except when it came to expensive wars designed to resolve petty personal grievances.
"You're telling us this is a disaster. What now?" asked the sweating corporate overlords.
Danny was a master of words and ideas and selling confidence. He had serenaded senators with a siren song that he now performed for his corporate overlords. Dan coolly responded to the hysteria of his business audience, without furrowing his brow, without tarnishing his purple Italian cufflinks, without stretching his wine-colored suspenders, without displacing his white silk monogrammed pocket square, and without wrinkling his Valentino Garavani suit.
"I have a business plan, he professed. "The surface can no longer sustain us," said the corporate evangelist. "Therefore we will leave the surface. We will relocate. We will not move to another country. We will not move to another planet. We will be reborn as a new nation, as a stronger nation, in the womb of the sustaining Earth."
The executives could not believe what they were hearing. Even some of Wentworth's most ardent supporters wondered if the world's climbing temperatures were starting to affect the sanity of their star vice president. Danny did not falter in the face of their skepticism and fear. He soldiered forward, never doubting himself, or his plan, for a moment.
Daniel's plan was audacious – crazy, even. The business overlords, in their fancy suits, questioned why they should listen to a junior vice president and a blue-collar pretender to the Ivy League, a new-money wannabe from a second-class nation to the north. (Canada won silver medals, the United States won gold medals – Canada had good public universities, the United States had the best private universities), whose success in business owed more to his smooth-talking mouth than any business acumen. But, these sweating men in suits were running out of options. They had traditionally believed only in the Reaganomic scripture of capitalism, but they now had to find a new religion. They had to convert to the belief that humankind could be re-imagined in the guts of the Earth.
Daniel had done his homework. He countered every probing question or overt challenge with compelling arguments and facts to show that a civilization could be created inside the Earth and, indeed, had to be created, if they wanted to preserve their wealth. The same power he used in arguing against climate change, he now employed to convince the money men that the world, as they knew it, was spinning out of control and they had to get off …. well, not off, exactly … but inside. Thus, Aramea Village Inc. was born.
Humankind had wreaked havoc on the environment of the Earth so humankind would simply find a different environment in which to live.
Not all humankind would be part of this new Exodus, of course. Some humans would have to remain on top of the blistering
surface inferno, hiding from the rays of the sun and the increasingly extreme storms, taking shelter under the few trees that had not died from flourishing insect pests, and fighting over the few and polluted drops of clean water that remained on the landscape.
Not all humans would go to this new land. Those who could afford to leave the chaos of a crumbling surface world become shareholders in the Aramea Corporation and would move to a new, secure homeland. Business had a new product to sell: a glorious new underground world for those who could afford to leave a dying old world.


$$$$$


If an employee with an overactive bladder was taking too many trips to the washroom – and leaving without having washed their hands – Miletum Growth's newly promoted information technology autocrat, technophile Ford Upshur, would know about it. Ford was standing tall, like he was the oldest kid in the classroom and the biggest bully of them all. He stared at the patchwork quilt of projected camera monitor images and the seemingly infinite stream of information gathered from prying electronic eyes peering into each dark corner of the Fortress.
Ford's more experienced information technology colleague, Nicodemus 'Nick' Wheeler had nominal superiority of rank over Upshur but Ford acted like he was the ringleader. Wheeler tried to ignore the fact Upshur had advanced his career by stepping on Nick's fingers. "I'm going to get a tea," said Wheeler, who was mostly looking for a break from staring at the inflated self-aggrandisement practiced by his computer colleague.
"You do that," Ford said, as if he were giving his permission. Upshur would have been happy if Nick didn't return at all.
Wheeler walked out of the crowded command centre of the Cap, away from the bells and whistles, and into the brief oasis of the relative peace and quiet of a tiny lunch room with a microwave and a kettle. He made his tea and stood there. He soaked in the heat and the aroma and wished the aromatic breeze of the tea cup would carry him away to a land far, far away where Darius Pentecost wielded no power and upstart Ford Upshur couldn't torment him with glowing odes to his own intellect.
Nick took another sip from his tea and then carried it back to his work station. At first he absorbed the multitude of projected images as some giant mosaic or a quilt of light embracing him. Then he leaned forward and stared at one tiny image, one point of light in a thousand points of light. This single moving screen shot was the monitor from the camera installed to spy on Ariel Lazarus (prisoner Noah Frontier) who appeared to be playing solitaire in the prison cell they referred to as a condominium.
"Ford," asked Nicodemus, "Can you increase the size of the images from the Peace Valley condo wing?"
Upshur didn't know what his co-worker was up to but he obliged him with the wave of a gloved hand that governed the images on the wall. "Look at the monitor of Ariel's room," Nick said. "Why is it so orange?"
Ford was annoyed with himself that he had not noticed this aberration before. Indeed, there was an orange hue to the images coming from the occupant's room. The other moving pictures from the other rooms in the Compound were slightly bluer, with more contrast.
"Maybe there is a defect in the new camera," offered Upshur. "The cameras are all new."
"Did you check the four-channel colour settings?" Nick asked.
"Yes," the other IT whiz replied, in a cutting tone. "I set them all myself."
"What did you set them to?"
Upshur did not appreciate his co-worker volleying these questions at him. Ford had little respect for a man he considered inferior and someone he intended to hip-check out of the department. Grudgingly, Ford called up the metadata, properties, and settings for all the cameras in the Peace Valley condominium wing. He used the computer mouse integrated into his thin glove to wave his hands in the air and check the serial numbers from each projected image. He then matched these identifying numerals with the ones he had recorded in the database for cameras he had just ordered from Japho Electronics. The numbers all matched.
Ford then checked the camera settings and properties. Every one of the cameras was set to the colour vibrancy and contrast settings Ford had demanded … all of them except the camera monitoring Ariel's room. A quick search revealed that the camera monitor spying on Ariel's corporate prison cell was set to capture colour according to the default settings set during manufacturing.
"Maybe someone has reset the colour capture back to the factory defaults," Ford conjectured. "Did you play with the settings?"
"No," Nick replied, focusing all his might to keep stridency out of his tone. He willed his throat not to constrict, and his voice not to waver. He did not want to display his emotion and unwittingly betray his feelings to his ego-addicted rival. "I have not adjusted any of the settings."
"Maybe the camera automatically reverted to the default when the power went out," Ford countered.
"Maybe," Nick answered. "What other information do we have coming from that room?"
Ford's peacock chest was no longer inflated like a balloon. Upshur could no longer afford to hurl studied disdain at his colleague. The computer whiz began looking at all the biometric measures of the incarcerated employee who was being detained in the eastern condo wing. "Ariel's bar code checks out," Upshur said.
"What about his biometric indicators and heat patterns?" Nick asked.
The two men took a look at the patterns and everything seemed to match. Wheeler lifted his own gloved hand to enlarge the live tracking of the patterns of Ariel Lazarus's heartbeat.
"It looks right," Ford replied. "The computer says it's a match."
Nicodemus commanded the computer to compare the resident's heart rate pattern with past records. Nick froze when he realized what the moving indicators were telling him. "That's not good," he said.
"What's not good?" countered Upshur, who could not see what was bothering his co-worker. "Look at the graphs – they're perfect matches."
"Exactly," Wheeler replied, a nervous waver creeping into his voice. "Look at those patterns from the past four minutes. They are beat for beat the same as the heart rate patterns from three days ago. Heartbeats are similar. They are not exactly the same."
The proud peacock Ford Upshur now looked like a starved dove. His puffed-out red cheeks were now sucked in and pale. He waved his wired finger to make contact with security chief Jacob Cain. "Jake: We have a problem in the Peace Valley wing. We need to check out the resident of room seven."
Jacob immediately contacted security guard Israel Lansing. "Izzy: I need you to check out Ariel Lazarus's room right away."
"Sure, Mr. Cain," said Israel. "Will do."
Lansing swallowed hard and steeled himself for the stuff that was going to hit the fan shortly. The security guard knew that when he opened the door of the prison cell, the prisoner they called Ariel Lazarus – who was really Miletum Growth employee Noah Frontier – would be gone.
Nick and Ford had been watching projected camera images of the prisoner playing solitaire. Izzy knew there was no card playing in condo number seven … and nobody inside the room to play cards.